New Tips For A New Year!
Are you tired of reading the same ol WordPress tips from a few years back? Look no further here is a great compilation of WordPress tips for 2011. Â Take a look and feel free to share with our friends!
Best WordPress Tutorials
Enhancing WordPress Custom Fields with Search Filtering
by Kirsty Burgoine
In this guide, I'll show you how to work with custom fields and how to make them even more powerful by adding the ability to display and filter them.
Essential Tips for Maintaining and Speeding Up WordPress
by Oleg Mokhof
this article brings you essential tips for maintaining and speeding up WordPress. Using these simple and free tweaks and plugin installations, you can:
Using WordPress Custom Template to Create Layout with Different Sidebar
by Stéphanie Walter
Such websites are mainly built around the WordPress page functionality but it can sometimes make sense to be able to display posts from special categories, to create, for example a "news" or "blog" page. In this article, we will see how to use custom templates to create a blog page in our website, with a custom sidebar and some thumbnails.
Using HTML5 To Transform WordPress' TwentyTen Theme
by Richard Shepherd
Last year, WordPress launched arguably its biggest update ever: WordPress 3.0. Accompanying this release was the brand new default theme, TwentyTen, and the promise of a new default theme every year. Somewhat surprisingly, TwentyTen declares the HTML5 doctype but doesn't take advantage of many of the new elements and attributes that HTML5 brings.
Create Dropdown List of Posts from a Category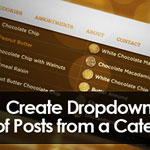 by reza – DynamicWP
You want to list posts from a category but don't have much space for the list in your site? Simple, make the list in a dropdown box.
How to Group Articles or Posts Alphabetically
by reza – DynamicWP
To help your site visitors quickly find one or two posts, you can create a list post ordered by date, category, or alphabet. There are tons of tutorials you can find to create this list. But this tutorial is an advance version to list post ordered by alphabet
How to Group Articles or Post by Author
by reza – DynamicWP
Grouping articles in specific criteria, like category, date or alphabet, could always help visitors to quickly find one or two posts. In my previous tutorial, I've shared a code snippet to group posts aphabetically. This time, I'll share the code to group posts by their author.
Easy Way to Add Social Media Count Button in WordPress
by DynamicWP
In this tutorial, we will learn how to add manually social media count widget button on wordpress site. Yes, there are plenty of social button plugin available for WordPress, but for reasons of optimization we must minimize the use of plugin also why install a plugin when you can do it with few lines of code.
How to Restrict a Specific Word from Post Title
by reza – DynamicWP
Hooks are very useful in WordPress. They allow you to "hook" custom functions to an existing function, and allow you to modify WordPress' functionality without editing the core files.
How to create attractive post images on your blog
by Ryan Imel
I have made an effort to keep high quality post images a priority at WPCandy. You won't find a post here, since the relaunch, lacking a bright, mostly relevant image at the top.
I'll show you how I do each of these, hopefully give a few pointers, and provide a couple of templates at the end of the post that should help.
How can post formats be improved
by Josh Leuze
So far most of the criticism towards the post formats feature in WordPress 3.1 has been about the formats being a standardized list that cannot be customized. But from the perspectives of portability and usability, I would say a mere standardized list doesn't go far enough.
What's new and exciting in WordPress 3.1
by Brian Krogsgard
WordPress 3.1, or "Reinhardt", is now available in its full release. We'll walk you through what's notable and new, and give you links to the initial resources we're aware of. If you're already using WordPress 3.1, jump down to the comments and tell us about your experience so far.
How to Add Custom Fields Automatically on Post Publish in WordPress
by WPBeginner
Now while we will leave the auto-generating Bit.ly shortlinks for each post for our next topic, we will cover how to add custom fields automatically on post publish in WordPress. This can be very useful for developers who are looking to push WordPress to the next level.
Increase your WordPress Blog Performance by using Google App Engine
by Ivan Kristianto – WPBeginner
Page speed is one aspect of SEO. Google and other search engines and – above all – your blog visitors love fast page loading. You may be aware that there are a lot of ways to improve your blog page speed, from using cache plugins (like W3 Total Cache) and optimizing themes, to using a good hosting server (like HostGator) and finally – using a CDN. In this article we will be showing you how to use Google App Engine to act as a CDN.
How to Display Only Parent Category in your WordPress Post Loop
by WPBeginner
When you use the_category() template function in your WordPress theme, it displays both the parent category and any child/subcategories under it. If you are creating a site that uses a lot of child categories to categorize the content, then this can become a problem because the_category code will create a lot of clutter.
How to Display Only Child Category in your WordPress Post Loop
by WPBeginner
In our previous post, we shared how you can only display parent category in your WordPress Post Loop. This article is the continuation of the similar technique except here we will try to only show child category in your WordPress loop.
Create Automatic Short URLs for Your WordPress Posts with WP Bit.ly
by WPBeginner
In this article, we will actually show you how to automatically generate a Bit.ly or Bit.ly PRO URL for each of your posts without editing a single line of code.
How to Add Default Content in Your WordPress Post Editor
by WPBeginner
Have you ever find yourself entering the same text in all of your posts? Often people do that such as asking people to subscribe to their feeds, retweet the post, share it on facebook etc. You can always use a simple tag to add it right after the content, or you can add that text as the default content in your WordPress post editor.
WordPress Custom Fields 101- Tips, Tricks, and Hacks
by WPBeginner
In this article, we will share a step by step guide to use WordPress Custom Fields which should beginning developers or DIY users very excited. Furthermore, we will be compiling a list of cool things you can do with WordPress Custom Fields in this article, so this will really show you how custom fields can extend the power of WordPress.
How to Increase the Maximum File Upload Size in WordPress
by WPBeginner
Depending on the web hosting company you choose and the package you select, each of you will see maximum file upload limit on your Media Uploader page in WordPress. For some it is as low as 2MB which is clearly not enough for media files like (audio / video).
How to Add a PayPal Donate Button in WordPress
by WPBeginner
In this article, we will show you a step by step guide on how to add a PayPal Donate Button in your WordPress posts, sidebar, or anywhere else with or without a plugin.
Extending the Power of Your Default WordPress Widgets
by WPBeginner
By extending the power of your default WordPress widgets, you get more control over how you display things which allows for further and easier customization options.
Ajax Requested Page Return Only Content
by Chris Coyier
I posted a little tip on CSS-Tricks the other day about how you can load only parts of other pages on a site via Ajax, and how to do that without needing additional HTML wrapping elements to keep it clean….
Hosting Client Sites on a WordPress Network
by Peter Wilson
The flipside of regular updates is the maintenance of WordPress installs. Once you start maintaining more than a few installs for your clients, keeping both plugins and WordPress up to date can become a bit repetitive.
Creating a custom functions plugin for end users
by Justin Tadlock
Most of the WordPress tutorials I write mention adding custom functions to your theme's functions.php file. Many of the other tutorials around the Web will use this same technique for adding custom code. However, there are different ways of handling custom functions.
HTML Sitemap for WordPress
by Joost de Valk
HTML sitemaps (as opposed to XML sitemaps) are often mentioned as being useful for SEO. They certainly are if you use them wisely (and especially Bing seems to like them at times), but I like them even more for the fact that users like them a lot.
Intelligent Site Structure for better SEO
by Joost de Valk
How to change WordPress editor font
by Metin Saylan
Don't like the good old Courrier font used in WordPress editor in HTML mode? It's very easy to use a more modern font such as Monaco or Consolas. Just read the following recipe to know how to do!
How to redirect your homepage to the first post
by Ashton Sanders
Do you ever wanted to know how to create a blog with no home page? A friend recently asked me, and I came up with that recipe which automatically redirect visitors to your latest blog post when trying to visit the homepage.
Change WordPress "from" email header
by KeenTricks
By default, the default WordPress email adress looks like WordPress@yoursitename.com. Want to use your real email and username instead? Just read this recipe.
How to modify size of embedded videos
by Shallan
In WordPress, it is easy to embed videos on your blog. But sometimes, dealing with video sizes is a bit painful. Today, let's have a look at how you can adjust the size of any embedded video using a filter.
Easily display post titles with a custom length
Orange Dev Design
If you want to be able to easily display only the first X characters of your post title, I git something in store that might interest you. Just read this recipe and enjoy!
Show Post Time Twitter Style
by Paul Maloney
What we will do today is show the post dates like Twitter does, eg: 24 minutes ago, 4 hours ago etc…
Redirect Back To Post-Page Listing After Publish-Update
by WPCanyon
In case you want to be redirected back to the post/page listing and not to the edit page of that post/page on publish/update here is a little snippet that does just that.
12 Ways to Get Beautiful Typography for WordPress
by Sarah Gooding
Typography is just as important to your website design as the images, layout, or any other element. It's the best way to highlight your content and make your site stand out from the crowd. These 13 tools and tutorials will help you to take your typography to the next level on your WordPress site.
How to Add or Remove Links From the WordPress 3.1 Admin Bar
by Sarah Gooding
The new WordPress 3.1 admin bar is fairly handy and it can save you quite a bit of time when accessing your most-used menu items. However, not every WordPress installation is the same. We're going to show you how you can customize the admin bar to suit your particular needs.
How to Avoid Common Pitfalls and Ensure a Smooth WordPress 3.1 Upgrade
by Sarah Gooding
If you've gotten too used to the ease of that automatic upgrade button and have never experienced the old days of upgrading WordPress, then you may be shocked when the automatic upgrade seems to break your site. Let's get back to the basics. Follow these steps to give yourself the best chance at a smooth upgrade.
How To- Add a Contact Form to WordPress with a Captcha
by Oli
You will need to add a contact form to most WordPress installations as they are more user-friendly than simply listing an email address. Once of the most popular free contact form plugins for WordPress is Contact Form 7, so in this guide I will show you how to install it, setup a simple contact page and add a Captcha for security.
How To- Check WordPress for Dead – Broken Links
by Oli
I use quite a few affiliate links on WPLift (I use the Free Simple Link Cloaker plugin to manage them) but I wanted a way to check if any of them were dead, as this would mean losing out on potential income. The very nice solution I found to this problem was the free, Broken Link Checker plugin
How To- Display your Google Analytics to the Public
by Oli
Have you ever wanted to show off your Google Analytics data to your blog visitors? If you sell advertising on your site then this is a very handy metric for advertisers to base their buying decision on. Unfortunately, Google doesn't make this very easy at the moment but there is a WordPress plugin called Google Analyticator which will let you do just this. It also does a lot more :
Three Awesome Functions in WordPress You Might Not Know About
by John P. Bloch
WordPress is bound to have some really cool ones floating around; and unless you either read core or are active on trac and/or #wordpress-dev, you might not have seen these before.
WordPress $post, $term and $comment Object Cheat Sheet
by Michael Martin
There are several objects in WordPress that we use all the time, namely $post, $comment and categories/tags. If you're like me though, you never remember everything that's in there, or the names of the values you want.
An Updated WordPress Events List
by Michael Martin
Around this time last year, I wrote a post on how to create an Upcoming Events section on your WordPress blog. As several of you found out this January though, that code had an issue in it that meant it stopped working with the new year. In this post, we're going to fix that.
Optimize the Performance of Widgets, Buttons & More
by Frederick Townes
A recent post by web site performance thought leader (and user experience expert as a result) Steve Souders reminds me of a vital nuance that's not even clearly expressed in the popular Yahoo! performance rules; namely render the page first, THEN add JavaScript.
Cleaning up an infected website – Part I- WordPress and the Pharma Hack Sucuri
by dd – sucuri.net
We get to deal with infected web sites on a daily basis and the most common question we get is how do we clean websites. What steps do we take? What should you do if you want to clean up your site if it gets infected?
How to Use WordPress Post Types and Taxonomies
by Adam Murray
With the release of WordPress 3.0, two great ways to better organize and display content were introduced: post types and taxonomies. These two advances improve WordPress' role as an all-around content management system, and they continue to prove that WP is not just a blog platform. When 3.1 releases with post formats, it will be imperative that you understand how to use and implement post types and taxonomies.
How-to- Custom Post Types for Events (WordPress)
by Noel
Chances are you found this page looking for a tutorial on how to create Events with Custom Post Types within WordPress.
How-to- Custom Post Types for Events Pt. 2
by Noel
Now that we've handled the entire registration and back-end functionality (see Pt. 1) of our events custom post type, it's time to move on to our design output
How To- Show Off Your Social Counters in WordPress
by Konstantin
You know it's all about social these days, and this post is about showing off how social you are on your WordPress website. I'm sure you're using tonnes of social networks and all of them have friends, followers, fans and subscribers metrics, but let's start from simple: Twitter, Facebook and RSS.
Custom Post Type 404 Error Solutions and Fixes
by WordImpressed
WordPress 3.0′s Custom Post Types are undoubtedly a valuable feature. They allow you to extend the platform like never before, but also can occasionally cause some problems when developing; most commonly 404 issues.
Best Premium WordPress Tutorials
Creating a Subscription Site Using WordPress
by twodoors
In this tutorial, I will walk you through creating a subscription site using WordPress and PayPal Subscriptions. By the end of this tutorial, you will be able to create and personalize the WordPress registration page and login page, create custom registration fields tailored to your site, and restrict content based on category and if the user is logged in.
Create a Universal Slider Manager in WordPress
by wizylabs
In this video tutorial you will be learning how to create a very basic slider manager in WordPress. You can use the technique that you will learn from this tutorial to create more powerful slider managers for your WordPress themes or even plugins as I did for both of my themes on ThemeForest Space & Xero. Enjoy! 

Custom Portfolio Page For Your WordPress Theme
by nuresponse
In this tutorial you'll watch as I modify the TwentyTen theme (that comes with WordPress 3.0+) to;
- Use built in WP functions to include & exclude posts from the loop based on category.
- Display Portfolio Posts on a custom page template – Portfolio Page.
- Add a new post_thumbnail size to the functions.php file & display this custom sized Featured Image on the portfolio page along with the post excerpt.
- Display all other Posts on a new Custom Page Template – Blog Page.
- Display featured image from the post on the Blog Page.
Original article is located here:Â http://www.dynamicwp.net/articles-and-tutorials/50-best-wordpress-tips-and-tutorials-of-february-2011/
If you like this post please share with your friends!